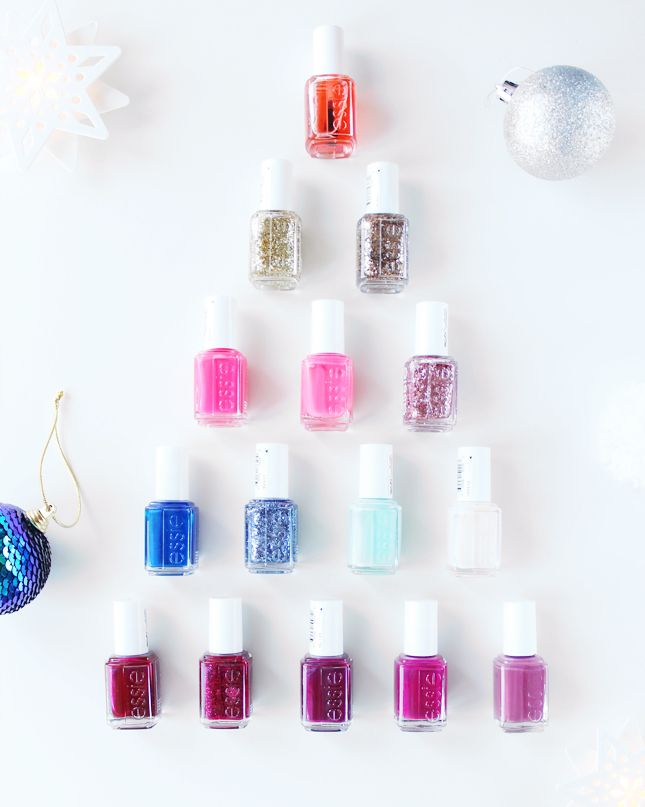 I've become pretty obsessed with Essie nail polish recently and my collection has grown quite a bit over the past few weeks. I find that the brush is perfect for applying nail polish, it's so quick, easy and fits my nail really well. I love the Essie nail polish formula as it lasts really well on my nails, especially the darker shades.
Starting from the top is one of the most recent additions to my collection, Essie Nail Treatment Apricot Cuticle Oil. It's such a great idea having the oil in a nail polish bottle to brush on to your cuticles as it makes it so quick to apply. I've been using this every night and can really notice the difference in my nails, it keeps them feeling nourished due to the mixture of hydrating oils.
The next line down are two recently released Christmas glitters, I spent a good 10 minutes in boots deciding between Essie's Rock at the Top which is a gold glitter and Essie Summit of style which is a bronze/rose gold glitter before giving up and buying them both as they're both just so pretty!
Next up are three pinks, From left to right - Essie Peach Daiquiri, Essie Cute as a Button (which are both pretty coral pinks) and Essie A Cute Above, a pink glitter. I normally save these shades for summer but A Cut Above works well over the festive season too.
Essie Aruba Blue is a sapphire foil blue and one of my all time favourite shades. Essie Stroke Of Brilliance a frosty blue glitter and Essie mint candy apple a mint shade that's great for the transition into spring. Last on this line is Essie Vanity Fairest which is so pretty when used for a shimmery french manicure.
Berry shades are my favourite colours to wear on my nails. Essie Bordeaux is a new addition to my collection and a beautiful deep wine shade, Essie Leading Lady a beautiful deep red with flecks of raspberry micro glitter running through it, Essie Sole Mate a vampy berry that works well with a glitter accent nail and my absolute favourite Essie Bahama Mama is a warm plum shade. Essie Angora Cardi is a pretty, creamy dusty rose colour. See me wearing Angora Cardi here.
I've already added Essie Midnight Cami, a deep twilight blue to my wishlist and I have my eye on a few more pink/purple shades for Spring!
Which is your favourite Essie shade?