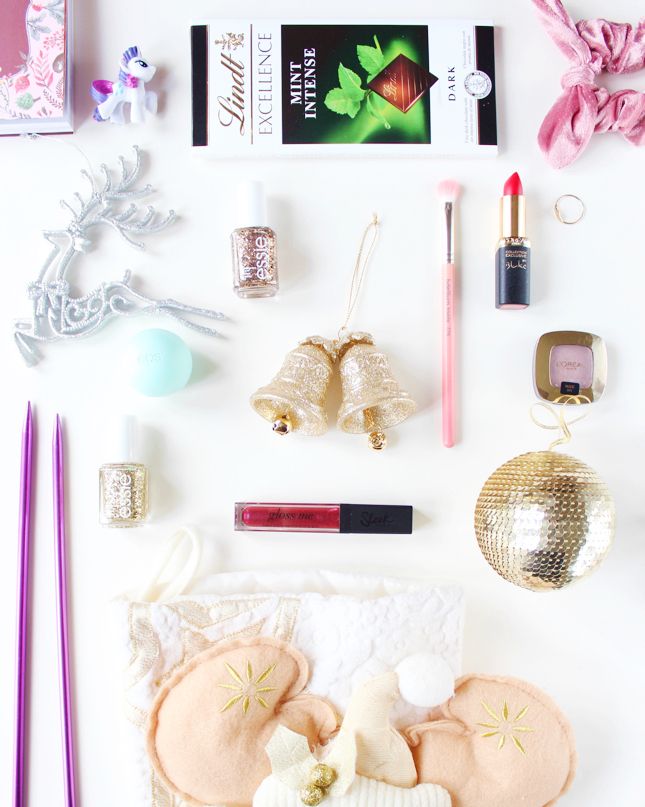 I wasn't actually planning on posting a gift guide this year but I felt really inspired when I unpacked my stocking and so I thought I would share a few stocking filler ideas or little secret santa gift ideas:
Eat Pretty by Jolene Hart: A great book for those who are interested in beauty and healthy eating, this book lists the food properties and benefits for beauty from the inside out. It has great recipe ideas and tips for eating in season.
My little pony rarity figure: I love this little my little pony figure, I'd love to receive this as a little stocking filler or cute gift. I'm sure I'm too old for my little pony but it brings back happy memories and it's just so cute!
Lindt Mint Intense Dark chocolate: This to me tastes just like After Eights and satisfies chocolate cravings with just one square.
Primark velvet hairband: These pretty and affordable
velvet hairbands come in two packs and are great for accessorising your hair in winter. I love the dusky pink and black velvet duo and for £1.50 I think they're a great little stocking gift.
Essie glitter nail polishes: Essie Rock At The Top is a festive gold glitter and Essie Summit Of Style a beautiful bronze glitter nail polish.
Sleek Gloss Me in Forbidden City*: This is a
stunning glittery plum lipgloss full of iridescent glitter and perfect for Winter and New Years Eve.
Bdellium Tools Pink bamboo brushes: These pink bamboo brushes are vegan and eco friendly. The 776 brush is great for blending out eyeshadows.
L'Oreal Color Riche Exclusives Lipstick in Blake: This is a beautiful cool toned pure red lipstick. Perfect for Christmas Day.
EOS Lip Balm in sweet Mint:

EOS lip balms keep lips so soft as they contain vitamin E, jojoba oil and shea butter. They are 95% organic, 100% natural, petrolatum free and a great little gift for lip balm lovers.
L'Oreal Color Riche Mono Eyeshadow in Cafe Saint Germain: These mono eyeshadows are buttery, long lasting and really pigmented. Cafe Saint Germain is a beautiful shimmery purple taupe.
Tiger Knitting needles: These large knitting needles are great for craft lovers and perfect for knitting a cosy scarf this winter.
Have you started your Christmas shopping yet?