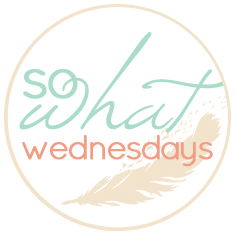 Hey guys! This week I'm saying SO WHAT if...
I feel like eating all day, every day - I just really love food!
I teared up watching Silver Linings Playbook
I always say I want to take a nap after work, but once I get home I always get too busy and never get around to it
I've been too busy to go to the gym for the past two weeks >.<
I'm kinda addicted to Instagram...
I really, really want to get my hands on some Girl Scout cookies
I never eat out because I hate eating alone :(
I only do my laundry once I've run out of clean underwear XD
No one can notice I got my hair cut - long hair is long hair loll

What are your "so what's" this week?